By Larissa Runkle
Jun 18, 2021
Even with the outside world opening back up, many of us have found new comfort in staying at home. Backyard dinner parties, outdoor movie nights, drinks on the deck—you name it, there are so many summertime favorites that really don't require going anywhere, especially if you have a great outdoor space.
And if you don't? Well, we're here to help with that.
To get a little inspiration for making your backyard into an oasis you actually won't want to leave this summer, we once again consulted with the pros at design retailer Living Spaces. They gave us the scoop on the most searched outdoor decor and design ideas of the season, and we're here to share a few of our favorites.
Here are five absolute must-haves in your outdoor space this summer, and all the details on where to get them.
1. Indoor-outdoor spaces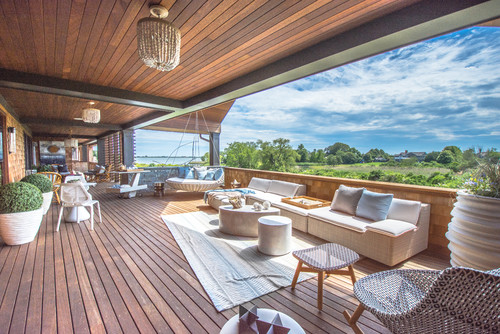 One of the best ways to make your outdoor spaces feel irresistibly cozy this season is by making them feel like they're inside. Think: decor features such as extra throw pillows, blankets, and even some of your living room furniture (all approved for outdoor wear and tear, of course).
But don't just take our word for it. According to a recent Google report, "indoor-outdoor spaces" is one of the most significantly searched trends of the season, and it's seen a 155.56% increase in popularity from last year.
"Indoor-outdoor living spaces—adding comfy sofas and coffee tables to the backyard—became an easy solution to those feelings of being cooped up during quarantine," says Living Spaces designer Shelby Greene.
"2020 was all about finding comfort in trying times, and when it comes to the outdoors, comforting pieces are here to stay," adds Greene.
Add some cozy indoor-outdoor vibes to your space with this boho pearl lantern, then beef up your seating area with this diverse collection of throw pillows and floor poufs.
2. Concrete furniture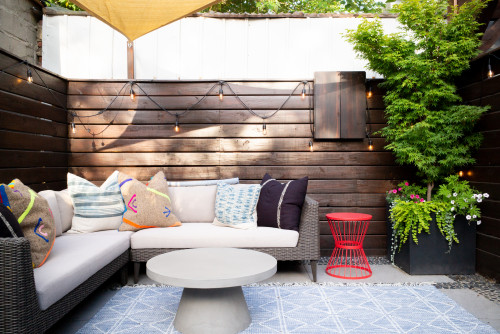 One outdoor trend we didn't see coming this season is the draw toward concrete furniture, up nearly 7% in recent months, according to the folks at Living Spaces.
"There's something minimalist about concrete furniture," says Greene. "There's only one texture and color, and the shapes are usually simple. In other words: It's easy, timeless, and a safe choice, unlike some of the more fashionable wood, fabric, or metal outdoor pieces."
Because of its versatility, neutrality, and ability to withstand all sorts of weather conditions—maintaining that pristine look—concrete furniture isn't a trend we see disappearing anytime soon.
Upgrade your outdoor dining with this round-top table, or make a smaller addition with this gray embossed side stool.
3. Outdoor kitchens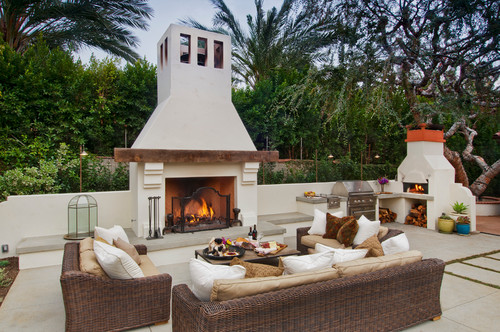 Photo by ORCO Block & Hardscape
Speaking of indoor-outdoor vibes, it's no surprise that having an outdoor kitchen is still trending on Google and ranking highly on everyone's wish list this season.
"An outdoor kitchen is a must for exterior design in 2021," says designer Savannah Phillips of The Knobs Company. "People spend all day in their home office, and when the clock strikes 5, it's time to sprint outside and do some grilling.
"An outdoor kitchen can be used for not only standard cooking, but entertaining as well if you add bar stools or a dining set," Phillips adds.
It's not just Google searches proving continued interest in outdoor kitchens. According to a members-only survey conducted by the National Kitchen & Bath Association, 76% of design professionals reported outdoor kitchens as their "top project" this summer.
Whether you've broken ground on your ideal outdoor kitchen or not, one easy way to get started is with a portable pizza oven (also trending on Google)—like this one from Ooni.
4. Pastel colors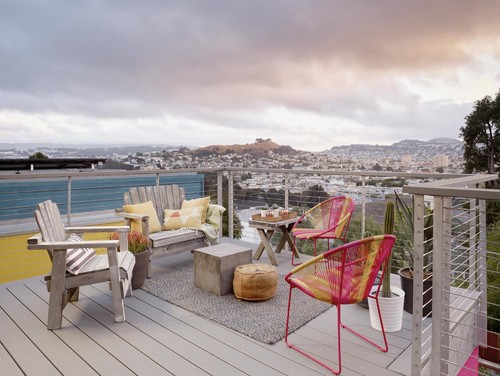 Photo by Levy Art + Architecture
Nothing screams summer quite like a bouquet of color on your patio. That might be why searches for all things pastel are up right now—particularly in shades of yellow (up 13%), green (up 10%), and our personal favorite, lilac (up 19%).
"Pastel colors are a huge outdoor trend right now, stemming from the 'cottagecore' aesthetic that has been floating around," says Phillips. "These muted colors give a calm, relaxing feeling and pair well with the bright colors of flowers and foliage. They're perfect for not overwhelming the space and keeping the focus on the natural elements."
Incorporate some pastel highlights into your outdoor decor with this persimmon rocking chair or this peachy-pink mosaic stool.
5. Mini gardens
The best thing about this trend is that just about anyone can do it—whether you have a sprawling lawn or a small balcony. These mini gardens (searches are up 7% in the past months) are the perfect way to tie in any outdoor space, no matter the size.
"The mini garden trend is all about practicality," says Greene. "Downsized or placed in containers, gardens become easy to maintain and place. In containers, this trend becomes portable, and incorporating a tiny garden near, between, and even on outdoor furniture makes an outdoor space delightful."
Original article appears: https://www.realtor.com/advice/home-improvement/most-searched-outdoor-decor-trends-2021-summer/
#WinWithVin #KWMerrimackValley